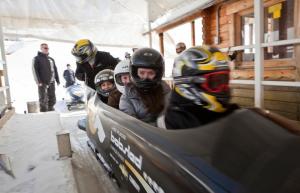 The Lake Placid Olympic legacy will be front and center during a weeklong celebration beginning February 14
Lake Placid, NY – Forty years ago this February, the Adirondack village of Lake Placid hosted the 13th Olympic Winter Games. The heroics of the U.S. men's Olympic hockey team's improbable win over the Russians, known as the "Miracle on Ice," and speed skater Eric Heiden's five gold medals helped make the 1980 Lake Placid Games one for the ages, one with an enduring legacy.
The 40th anniversary of the 1980 Winter Games presents the perfect opportunity to celebrate Lake Placid's rich Olympic legacy - past, present and future. From February 14 - 23, the two-time Olympic village is rolling out the welcome mat and is hosting a full slate of activities that will embody the Olympic spirit - from re-living the opening ceremony and torch lighting, ice skating around the historic Olympic Oval, to skiing with Olympic athletes.